Too good to be true
Posted on
October 1, 2016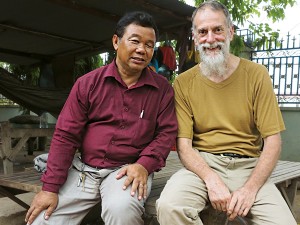 You can help pastor Buth Nhorn lead believers to maturity in Christ Jesus.
I killed many, many people. I laid countless land mines. I built and ran an orphanage for the purpose of raising child soldiers. As a Buddhist, I calculated that I was beyond redemption. What could I possibly do to compensate for what I had done?
I was once a warrior
On 18 March 1970, young Vietnamese guerrillas with black teeth marched me into the forest to join the Khmer Rouge. Because I was opposed to Lon Nol and loyal to Prince Norodom Sihanouk I stayed. In fact, I became a commander and even continued fighting underground after the overthrow of Pol Pot in 1979. I survived numerous injuries. As you can see, my body bears the scars of battle.
At first Reth resisted my advances. But in 1978 we married. The following year we escaped to Thailand. In 1987 my wife became ill and for a whole year could not straighten her fingers. A neighbour took her to a church. They began praying for my wife and after six months she was healed. Reth became a Christian and even hosted a Bible study in our home. In 1991 we returned to Cambodia.
Too good to be true
I rejected this foreign religion and was cruel to my wife. Yet, the more I abused her the more she loved me. She returned good for evil. This seemed too good to be true. But, why would she lie to me? I watched my wife carefully. For eight years she prayed for me.
One day I beat my wife until she was unconscious. But still she loved me. I was a drunkard and a killer. My life was a disaster.
Secretly, I began to read the Bible. I was confident that I would finally expose my wife's delusion. When I read John chapter three, verse sixteen, I was overwhelmed by God's love. I knew I was sinful. I wanted a new life. I too believed.
For several months I questioned every pastor I met. I needed to know, was I forgiven or not? If we believe, God will forgive us. This is what the Bible says. I believe in God's promise.
At church I played the guitar and studied the Bible. I love the way that the Abundant Life course helped me to understand the Bible. In 1999 I was made a pastor.
Reading makes us wise
When I look at my congregation, I can tell who is reading and who is not reading. The faith of Christians who read is real and active. Reading Christians are growing Christians; they are learning and doing things. I encourage Christians to read. Books enable us to benefit from the experience of Christians in other times and places. I know that the Holy Spirit uses books to encourage us and help us to grow more like Jesus.
I want to be faithful and obedient to Jesus. Please pray for me.
Buth Nhorn pastors the Phsar Leu Church and distributes Fount of Wisdom books in Siem Reap.
$15 will subsidise the purchase by a pastor in rural Cambodia of a three-volume book package.