Serving Jesus is my N° 1 business
Posted on
October 5, 2016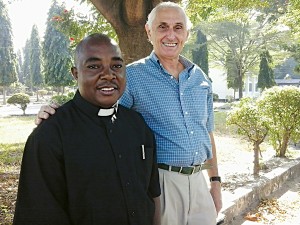 You can give a Bible college graduate like Christian Nchimbi the gift of knowledge.
My name is Christian Saidi Nchimbi. I am Tanzanian and reside in Dar es Salaam. I declare faith in Christ Jesus as the Lord and Saviour of my life. I believe that God is a God of love and full of mercy. I believe that Jesus Christ is the truth and the only way people come into fellowship with God. I believe in the authority of Holy Scripture to guide us. But this revelation has not always been my companion. It came to me when I began a personal relationship with God. To come to this revelation was the greatest miracle.
Christian in name
I was third born in a Christian family of eight children. From a young age, my parents brought my siblings and me to church on Sundays. They took me though all the church rites and the sacraments of baptism in 1972, and my confirmation in 1983. At church I enjoyed making friends and I was zealous in my duties. At the age of eight I was serving as an assistant at Holy Communion.
However, when I left home in 1986, things started to change. Away from my parents, I began to smoke and drink alcohol and I was concerned only with work. The church was no longer the number one business in my life.
I surrender
In 2003 I married Christina. When we met her name was Salima. She converted from Islam to Christianity to marry me. For the sake of strengthening her new faith I had to go back to church. After three years she was born again. This posed a challenge for me, until my turn came on 27 April 2008. At a crusade held in the Ilala District of Dar es Salaam the Lord called me and I surrendered to him. Now I see that God has a plan and purpose.
My life changed abruptly. I started to attend fellowship every evening and joined a class which started with twenty-five new converts. God gave me strength to grow very fast, and in a few years I became a leader, preacher and teacher of the Word of God. I left the job I was doing and started working full-time with the Anglican Church as an evangelist. This year, by the grace of God, I completed a three-year diploma and was ordained as a deacon. Next semester I begin studying for a degree.
Jesus by my side
Since I came into a personal relationship with God, I am learning what it means to be a Christian. I have no regrets, and I will not, since Jesus is always at my side. I always welcome the chance to share this insight with people. Jesus has done wonders for me which cannot be contained on this page.
Please pray that I hold fast to my faith in Christ Jesus by the power of the Holy Spirit.
Praise the Lord Jesus!
Christian Saidi Nchimbi is a student at the Theological Faculty at St Mark's University College and an evangelist with the Anglican Church of Tanzania.
$40 will provide a theological graduate or pastor with an essential theological reference.