But I'm too young to be a pastor!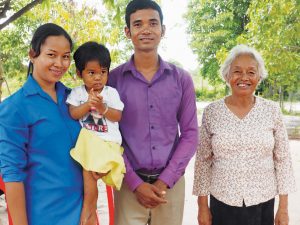 You can help pastors like Srey Villa speak the word of God with confidence in rural Cambodia.
"My father took me to church but he would not let my mother go. In fact he never took her anywhere. He was a proud, violent and controlling man. I decided not to be like him."
Things changed when Villa's father died in a traffic accident. "Now my mother was free to go to church. She became a Christian. Because of her faithfulness, my brothers, sisters, nieces, nephews and I all decided to follow Jesus."
God gave us a spirit of power and love
"At church I was given many opportunities to serve and grow. The youth leader took me to a Bible college in Siem Reap to attend training workshops."
One Sunday Villa's pastor took him to visit a group of 53 new believers. "They met under a tree at the edge of the forest. Despite violent resistance, a fearless widow had led these 13 families to the Lord. Her name is Khem Rem. I was inspired by her energy and courage."
"When Auntie Rem asked me to be their pastor I said "no". I had just finished year 12 and married. I wanted to serve God full-time, but not as a pastor. Who was I to take up this responsibility?"
Feed my sheep
"But when my wife and I read the Bible and prayed together, we realised that we loved these people and wanted to encourage and teach them. In 2013 I agreed to be their pastor part-time and study theology part-time."
"I felt too young to be a pastor. Others thought so too. But Auntie Rem continued to encourage me. She never stops praying."
Jesus be my guide
"I have a lot to learn and am keen to benefit from the experience of other Christians. The Bible alone is the word of God, but Christian books give me the skills and confidence I need to serve the church."
"Will you pray that I will mature as a leader and care for my church? To be a pastor I must support and nurture rather than control God's people. I love my wife and I am proud of her. Pray that together we will share the good news and that I will do the will of my heavenly Father."
Srey Villa purchased a package of Khmer-language books subsidised by SparkLit. He pastors an Assemblies of God Church in Skun, Siem Reap Province.
$15,000 will enable the publication in Phnom Penh of five new books written in Khmer by local Christians.