From the frying pan into the fire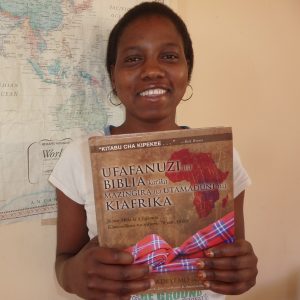 Happiness Mbumi graduates from Bible college with her own copy of the Africa Bible Commentary. With your support, Revd Paul Mungata will equip more Bible teachers like Happiness.
Armed with a Diploma in Applied Theology and your prayers, I am expected to help raise the standard of Christian education in the Diocese of the Rift Valley. Currently there are 174 catechists in the diocese. Most of them have had no theological training.
I am also deeply concerned for the training and well-being of pastors.
Training the trainers
As the principal of St John's Bible School at Kilimatinde I have been given the responsibility for transforming Bible teaching in my diocese.
Only 13 students are currently enrolled for our three-year Certificate in Theology in Kiswahili. This must change. To meet the urgent need for training, enrolments must at least triple with the next intake. Of course, this means training and appointing new teachers at the Bible School.
Deeper teaching
My own certificate-level studies did not qualify me for this task. So in 2010 I arrived at Msalato Theological College to prepare myself for this challenge. Because there are so few resources in Kiswahili, I had to study for my Diploma in Applied Theology in English.
My first three years at Msalato were tough. I lived away from home and had to travel back and forth to visit my family. However, in my final year my wife Neema and our youngest daughter joined me in Msalato. We were blessed to be able to live in one of the college houses. Neema loved taking part in the English program for pastor's wives.
I completed my diploma in June 2014. I feel very blessed to have been able to attend Msalato Theological College. I gained there a higher level of theological education with deeper understanding.
Work for books
I received a copy of the Africa Bible Commentary from SparkLit three years ago when I took part in the college's Work for Books program. When I graduated I was presented with a concordance. I am very grateful to SparkLit for supporting my work in this way.
Books have been very helpful to me during my time as a student. But I know they will be even more useful in the years to come as I work to teach and equip others. Completing my four-year diploma was hard. But I now face an even greater challenge.
Will you pray that our teachers and students will gain a deeper understanding of God's word? Please pray that lay and ordained leaders will be equipped for works of service, so that the body of Christ may be built up. Pray that graduates like Happiness Mbumi will lead God's people in a true way.
Revd Paul Mungata is the principal of St  John's Bible School at Kilimatinde in the Diocese of the Rift Valley, Tanzania.
$30 will provide a theological graduate or pastor with a copy of the Africa Bible Commentary.