More books are needed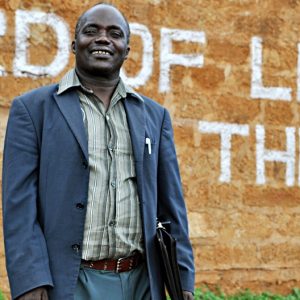 Today you can help Peter Ibui prepare pastors and leaders to serve growing churches.
When SparkLit Director Michael Collie spoke at our graduation ceremony in November 2012 he challenged us to study the Bible and grow in godliness. Following his speech, pastors were quick to request application forms for our Bible training.
The World of Life ministry was founded in Kianjai in 2009 to train new believers to read and teach the Bible and to use the written word to reach out to the lost, including our Muslim neighbours.
There is hunger
Widespread spiritual hunger and ignorance of God's Word can be attributed to a lack of access to basic Bible training and good books. In this impoverished and remote northern part of the Meru district, the Word of Life School of Theology is the only accessible and affordable Bible training available for equipping and empowering church leaders. We provide theological education to pastors who cannot afford to relocate or study full-time.
There is growth
Brother Collie's visit was a great encouragement and helped build confidence in our ministry. Since then our ministry has grown and improved. In 2013 we introduced a two-year part-time diploma for pastors using the ten-volume Bible Training Centre for Pastors African Leadership manual.
Last year, in response to local demand for Bible teaching, we opened a second campus in Mutuati with fifteen students from diverse denominational backgrounds.
This year, across both campuses, we already have a total of thirty-seven enrolments. The financial needs of our ministry are many but the most pressing of all is the need for African Leadership study manuals so that these pastors can begin our Bible training.
Pray with us
Please pray with me that these pastors will grow in understanding and godliness and be equipped to instruct and guide those in their care. Please also pray for the successful completion this year of the school's own facilities.
Peter Ibui is the Principal of the Word of Life School of Theology in Kianjai, Kenya.
$60 will enable a pastor to train for two years by providing a ten-volume African-Leadership manual.