Books without borders
Posted on
October 13, 2015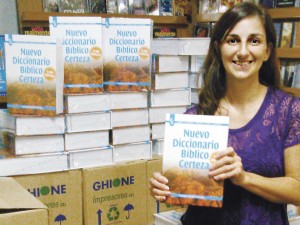 You can send Argentine publishing professional Daniela Ortiz to Singapore to be trained and inspired at LittWorld 2015.
Books cross frontiers and oceans. They reach across cultural, economic and social barriers. In the hands of the right people at the right time, books are used by the Holy Spirit to comfort, challenge, exhort, revive, motivate and transform us.
When I saw how God uses books to change the lives of young people, I decided to devote myself to the production and distribution of good Christian literature. I want to enable God's message to reach Spanish-speaking people through books that are biblical, engaging and practical.
Growing up with books
My name is Daniela Ortiz. I have been married to Germán for sixteen years and we have three beautiful children. For over twenty years we have dedicated ourselves to sharing the Good News of Jesus Christ with young people by all possible means, including books.
I have worked with Christian publisher and bookseller Certeza Argentina since I was a student. I now work full time and was recently appointed business manager. Over the years I have collaborated in every area of our ministry so I know what our team needs to grow and operate with excellence.
The local perspective
Publishing books in a country like Argentina is difficult. The hurdles we face daily include high inflation rates, regular increases in the cost of printing, changing import and export policies, barriers to free trade and the precarious financial situation of our customers. However, we know that this is what God has called us to do and we continue to accept our vocation as a challenge and privilege.
I love working with authors and seeing how the books we publish serve a variety of audiences. We publish books by and for Latin Americans; books that reflect and appeal to Latin American thinking. We focus on the development of young authors. Numerous well known Christian authors were first published by Certeza Argentina.
The big picture
Participating in LittWorld will give me an opportunity to take time away from my daily concerns and economic pressures to refocus, review and evaluate my role. At LittWorld I will receive training that will impact my current and future work with Certeza Argentina. I hope to meet people who will inspire and encourage me with their testimonies. I expect God to guide and refresh me so that I might follow his will.
Pray that Certeza Argentina will fulfil its vision to communicate the lordship of Jesus Christ over all things. Ask God to will use our books to serve and renew his church.
Daniela Ortiz is the manager of Certeza Argentina, a Christian publisher based in Buenos Aires.
$3,000 will enable Daniela Ortiz to join more than 200 publishing professionals in Singapore at LittWorld 2015, the global conference for Christian publishers.