Send Sajid to LittWorld 2015
Posted on
October 29, 2015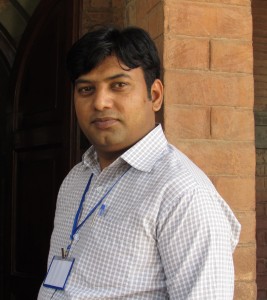 Where the gospel is preached, books are needed. Sparklit has the opportunity to send promising publishing professionals to LittWorld 2015 where they will receive strategic training and encouragement.
Reverend Sajid Imdad is responsible for course development at the Open Theological Seminary in Lahore. At LittWorld, Sajid will benefit from the experience and expertise of 260 Christian publishers from 50 countries. He will also have valuable things to share and will leave LittWorld a member of a global publishing family.
Our challenges
"The Church in Pakistan is suffering from a shortage of resources that are contextually relevant and in the local language. This limits the growth of the church and our opportunities to serve. By developing my understanding and skills in translation, editing, design and printing, I will be better prepared to navigate the challenges posed by each publishing project."
My dreams
"I want to be a faithful servant of the Lord and serve the church through publications and research work. I hope to be more effective and skillful in this regard and am committed to pursuing further theological and professional training."
My Expectations
"LittWorld will provide me with an opportunity to learn from other publishers. It will enrich and shape me, and introduce me to a world-wide network of professionals engaged in publishing ministries. I feel blessed to have been chosen and appointed by God to build up his church."
Pray that at Littworld, Sajid will be encouraged and empowered.  Pray that through the unique training ministry of the Open Theological Seminary many will come to trust and obey our Heavenly Father and become agents of his grace and love in Pakistan.
You can send publishing professionals to LittWorld for vital networking, encouragement and training.