Putting the pow! into empowerment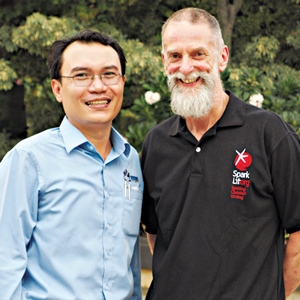 SparkLit advances God's kingdom by empowering Christian writers and publishers in difficult places. SparkLit does not publish books. We are a publisher's companion.
We do not do for our publishing partners what they can and must do themselves. We invest in emerging indigenous publishers where life-changing Christian writing is needed most.
Where there is vision and enthusiasm we listen.
Where there is talent and promise we provide training opportunities.
Where there is skill and competence we provide tools.
Where there is initiative and enterprise we provide capital.
Where there is leadership we provide friendship.
We go where we are invited. When we get there we work under local leaders. We listen until we understand. We make ourselves mutually accountable. Whether there are setbacks or success, mistakes or miracles, failure or fortune, we provide companionship.
To be empowered, a local leader has to be given power. This is counterintuitive and uncomfortable for us but reinforces the authority of the leader in their context.
How do we recognise success? How do we measure progress? We are encouraged when we see the newly published work of local authors. We are encouraged when revenue from sales represents a growing proportion of turnover. We are encouraged when our partners, in turn, assume a mentoring and nurturing role with other emerging writers, publishers and booksellers.
We always give thanks to God the Father in the name of our Lord Jesus Christ, submitting to one another out of reverence for Christ (Ephesians 5:20–21).
Michael Collie is SparkLit's National Director. This year he has been providing encouragement and training to Chim Titmaka (pictured left) from Fount of Wisdom publisher in Cambodia.