The gift of learning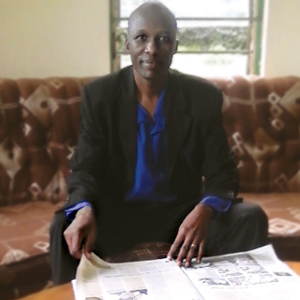 You can help prepare graduates like Harrison Wachanga Gitahi for long-term ministry.
I used to think that studying theology was not only unnecessary but dangerous. I saw priests and pastors who appeared to be indifferent to sin. They seemed preoccupied with church management. They had forgotten about outreach, evangelism and repentance. I was convinced that studying theology had made them apathetic. I thought that study would damage rather than improve my spiritual life and effectiveness as a Christian.
I had to learn to depend on God
My name is Harrison Wachanga Gitahi. I am 39, married and a born again Christian. I am now also a third-year theological student at St Andrew's College of Theology and Development in Kabare.
After serving as a youth leader for many years I came to realise that Christian ministry is not just about winning souls but also about effective leadership, discipleship and service. I needed to prepare for a sustainable and consistent ministry.
Studying theology has opened my eyes to the true nature of God. There was so much beyond my understanding. I was humbled to learn that it is God who sustains me and gives me strength to carry on. I long to use my time, energy and gifts to expose young people to the transforming work of the Holy Spirit.
Beyond the pulpit
Books are useful in the classroom but when I leave college they will be indispensable tools. Books will equip me for preaching and also for my ministry away from the pulpit. I will depend on books for my ongoing learning.
Your gift of books will be a great blessing and an encouragement for a long time.
Please pray for the students who graduate from St Andrew's this year. Pray that we will grow in faith and godliness and lovingly guide those in our care.
Harrison Wachanga Gitahi is a student at St Andrew's College of Theology and Development, Kabare, Kenya.
$50 will provide Bible college graduates in Kenya with a theological reference and a pastoral text.