When ten or twelve gather in Jesus' name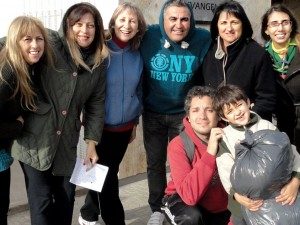 You can equip Lilián Robayna to immerse people in God's Word wherever Spanish is spoken.
Despite being located in provincial Argentina the Bible study guides we publish for home fellowship groups are being used across denominations and continents. This is possible because we have embraced digital technologies. From anywhere in the world, wherever Spanish is spoken, readers can download an ebook or order books printed locally on demand.
We are just scratching the surface. There is so much unrealised potential. But to be able to concentrate on our mission, our ministry must first become self­sustaining.
Equipped to serve
My name is Lilián Robayna. I am married to Miguel and we have two adult children. We long to see our fellow Argentines saved and steeped in God's Word.
At our church I help coordinate Christian education for a hundred children, youth and adults. As many come from impoverished homes we reinforce our Bible teaching by also developing personal disciplines and vocational skills.
Where possible we use available literature but, to meet the needs of our people, we are often obliged to write our own material. We even write and perform plays and sketches.
I graduated as a preschool teacher but worked for twenty-five years at our local Bible college. I began performing administrative tasks and eventually became responsible for the production of a journal for church leaders called Compromiso Cristiano (Christian Commitment).
Learning on the job
Ten years ago I was invited to work with Christian Growth Publishing. For the last three years I have been in charge. I have no formal training in publishing and don't feel equipped for this role. However, God has been good and has provided opportunities for me to grow and learn. SparkLit sponsored a LetraViva training event in Buenos Aires in 2011. I continue to use the skills and contacts I acquired there. But I need to deepen my knowledge and develop my skills so that I can do my job more efficiently and effectively.
Opportunities to share
LetraViva is a network of Latin American Christian publishers that provides logistical support, professional development and mutual encouragement. At this year's LetraViva training event in Mexico, I look forward to learning from the experience of other publishers who share our vision and face the same challenges.
Thank you for supporting Latin American Christian publishers.
Please pray that our ministry will become self-sustaining so that we can dedicate ourselves to our mission. Pray that in small fellowship groups many people will come to know Jesus and be transformed by the Holy Spirit.