Writing can go where people cannot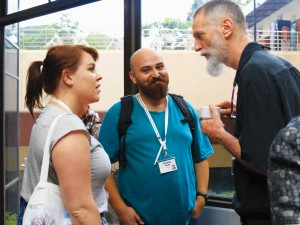 With your support Gökhan Talas will train a new generation of Christian writers.
I always thought I was a wise man. I was proud to be a socialist and an atheist. Nevertheless, I was curious about God. I grew up in the Alevi sect of Islam but felt dissatisfied and empty. I wanted to understand my existence. Why are we here? Where are we going?
I encountered Jesus for the first time while doing my military service. I found a Bible in an Islamic centre and read from Genesis to Revelation. It was logical. I saw that Jesus is real. He is alive and eager for us to have a relationship with him. God's love changed my heart.
More dangerous than terrorism
In Turkey we face a close and real evil. Evangelism is considered a greater threat than terrorism. When I started to believe in Jesus, my commanders burned my Bible. Many of my friends abandoned me. Christians are persecuted daily. Many have to leave their families when they convert. When I try to evangelise on the street the authorities beat me.
After completing my military service I started going to church. I met and married my wife and began training to preach the gospel and support churches. I worked in a radio station preparing programs with the intention to evangelise.
My wife and I moved to Malatya to continue our work. After only eight months five Muslim fanatics entered our office building, held us captive and killed three colleagues, including our pastor. We suffered great grief and trauma. We have lost many brothers and sisters to persecution.
A Turk can become a Christian
I moved my family to Istanbul and began to train in graphic design. I decided to use my skills to start a magazine to unite and strengthen isolated believers and reach the unsaved. Miras (Inheritance) magazine is easy to read, easy to hide and reaches people who have no access to literature, the internet or a Christian friend. Our authors represent various Turkish churches and ministries. We explain how a Turk can become a Christian. This is a strong message.
It takes courage to write
Most Turkish Christian books are translated from western languages and perspectives. We need more books and articles written in our own context and language. This is a difficult climate in which to recruit and nurture new writers. Naturally, potential authors are reluctant to attract attention to themselves.
To help young Turkish writers develop discipline, technique and confidence we are preparing to publish a manual for Christian writers. Will you help us guide and encourage a new generation of Christian authors?
Please pray that by training Christian writers we will extend the good news of Jesus Christ to those who are unsaved in Turkey.
Gökhan Talas is co-founder of Miras Publishing Ministries in Istanbul.
$4,500 will finance the preparation and publication of a manual to guide and encourage new Christian writers in Turkey.