Dr Paul Barker joins SparkLit Council
Posted on
October 26, 2016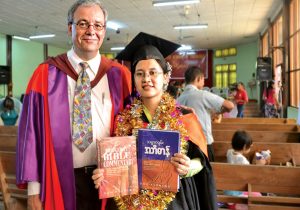 Paul Barker brings to SparkLit comprehensive experience in the region where most of our projects are located. He loves books and reading. He is committed to God and His mission.
"The majority world does not have access to quality, relevant or vernacular books. Yet pastors rely on books to guide them in preaching and leading. While many may read only a little, they do read. Investing in them is strategic. They are the future leaders of God's church."
"SparkLit has a crucial role in helping to grow local publishing and distribution of quality books. Many emerging publishers are deeply indebted to SparkLit's expertise and support."
In November Paul will be consecrated as an Assistant Bishop in the Diocese of Melbourne. As a CMS missionary Paul worked as the Asia Regional Coordinator for Langham Preaching and Langham Scholars. He taught in seminaries throughout Asia and initiated or facilitated SparkLit partnerships in Myanmar, Nepal and Pakistan.
Paul has been visiting Lecturer at Ridley College, Vicar of Holy Trinity Doncaster and Archdeacon of Box Hill. He has a doctorate in Deuteronomy, and has written books on Deuteronomy, Amos and Psalms, some of which have been translated. He is committed to strengthening the local church in the majority world with preaching and teaching resources.
"I hope that my experience in Asia will keep me living simply, loving the poor, serving the needy church and keeping the big picture of the gospel as my big picture. I hope it helps me to be more sensitive to the needs of the Asian immigrants we have in Melbourne."
Please pray for Paul as he resettles in Australia. Pray for him as he takes up his responsibilities as Assistant Bishop in the Diocese of Melbourne.
Today you can make theological texts available to Bible College graduates and pastors.