SparkLit Council member Paul Barker made bishop
Posted on
November 18, 2016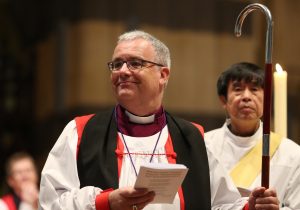 On Saturday 12 November SparkLit Council member the Revd Dr Paul Barker was ordained and consecrated as a Bishop in the Diocese of Melbourne.
Paul recently returned from South-East Asia after six years as a visiting lecturer in Biblical Theology, Old Testament and Homiletics, and as the regional coordinator for Langham Preaching and Langham Scholar Care.
"I hope that my experience in Asia will keep me living simply, loving the poor and keeping the big picture of the gospel my big picture. I also hope that it helps me to be more sensitive to the needs of the Asian immigrants among us in Melbourne."
"Pray that God will bring to completion the ministry and work begun in Asia. Pray that I am endowed with godly wisdom, courage and boldness, godliness of character and a quick and deep love for the people I am to pastor and shepherd."
Photography by Janine Eastgate, Anglican Media Melbourne.