Simon Woodley joins the SparkLit Council
Posted on
February 8, 2017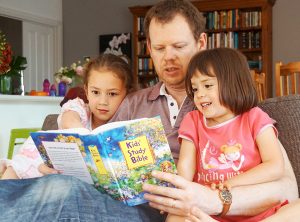 Simon has worked in the book industry for over twenty years and is currently the Managing Director of ALS Library Services, an Australian business supplying public libraries.
"Twenty years in the trade has taught me that people still read. While technology and devices compete for our attention, reading is still valued and powerful in shaping our collective beliefs and culture."
Simon is married to Melinda with four children under 13 and is studying for a bachelor of theology. He reads widely but particularly enjoys theology, business and young adult fiction. He serves as a leader in the Vineyard Church where he worships.
"Books condense knowledge and wisdom into a convenient package that can be used at any time and as many times as needed. In training, discipleship and evangelism, books can create focal points for conversation and can be delivered to people when an open conversation might be difficult or even dangerous."
"SparkLit trains and equips God's people to create books in their own language. This enables them to multiply knowledge of the truth in their culture and do the work that God has called them to."
Please pray for Simon as he serves on the SparkLit Council. As he reviews and authorises our overseas grants, pray that he might be given discernment and wisdom.