As the Lord enables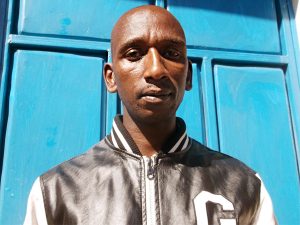 With your support pastors like Gerald Muriungi will train for a life of service in rural Kenya.
Although I do not come from a Christian family, since my childhood I have always envisioned a life of service to God. But how could this happen? Training was not possible. My church is too small to send me to study at a Bible college.
In September 2015 I saw an advertisement inviting people with a ministry call to apply for a scholarship to study the word of God for free. I immediately sent my application and was admitted.
To be able to study the Bible is a miracle
My name is Gerald Muriungi. I am a second year diploma student. Coming to the Word of Life School of Theology in Kianjai was a miracle. I am here on a full scholarship. The Word of Life School of Theology offers sponsored training to equip many leaders from all local church denominations. But the most encouraging thing this college does is supply text books for all Bible students.
The need for books is dire
The ten-volume Bible Training Centre for Pastors African Leadership Manual we use for the two-year part-time diploma course is supplied through a grant from SparkLit. You are doing a commendable work helping to equip ministers of the gospel and church leaders in Kenya. I am so glad to share part of the blessing you provide by your support of this Bible school.
On behalf of the 20 students in our class who benefit from your assistance, I wish to express our innermost thanks for you and for your love of Christ.
Please pray that we will win souls to Him and equip the saints for the work of the kingdom. Pastors in Africa are desperate for training and in dire need of Christian literature. Please continue to meet this crucial need as the Lord enables you.
Pastor Gerald Muriungi is a diploma student at the Word of Life School of Theology in Kianjai, Kenya.
$80 will enable a pastor to train for two years by providing the ten-volume African Leadership Manual.