Knowing God with heart and mind
Posted on
November 13, 2017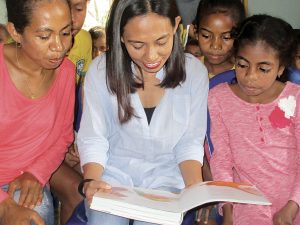 You can help Carla Sandra Marcal make disciples of all ages in Timor Leste.
I have a heart that loves children and the ability to teach them. God has given me these gifts to serve him and to bring praise and glory to his name.
My dream is to preach the word of God to children not just in Dili but also in rural and remote areas of Timor where children never get to hear the Good News. If it is the will of God, this is something I would like to do. But how can I teach children about Jesus when we still do not have a Bible that is easy to understand?
Digging deeper
I was born into a Christian family. My father is a pastor. He taught me God's word and told me many Bible stories. From a young age I knew that Jesus is my Lord and Saviour. However, I knew all these things only with my head, not with my heart.
Australian missionaries Chris and Grace Adams taught me to read and study the Bible for myself. I learned to dig deeper. When I began to see Jesus Christ as God's gift of grace, the word of God entered not only my head but also my heart and began to change me.
Books support my ministry
I want to be able to answer questions that children ask me with knowledge and insight from the Bible. I may never have the opportunity to study at a seminary or Bible college so to grow my understanding of the Bible and the world I read as many books as I can.
Reading broadens and deepens our knowledge. For example, if we want to know about different cultures or what is happening in other countries, we don't need to travel. We can read about them. Books help us to remember. If we forget something, we can open a book and read about it again. Books also pass valuable ideas from one generation to another.
Reading requires discipline. Without self control, social media can become a hindrance to our faith. The time we waste on Facebook could be spent reading.
A double edged sword
As the whole Bible is not yet available in the Tetun language there is an urgent need for a comprehensive and accessible presentation of the Bible story. The Big Picture Story Bible by David Helm preserves the big biblical themes and is well suited to this task.
I leapt at the opportunity to help prepare a Tetun edition of this popular children's Bible. Most adults and children are still learning to read. This book will benefit both the young and old as they read it together.
Please pray that we will find a way to produce an affordable Tetun edition of The Big Picture Story Bible. Pray that when they hear the word of God, children throughout Timor Leste will come to know Jesus as their Lord and Saviour.
Carla Sandra Marcal works with Scripture Union in Dili.
$20,000 will enable the publication in Dili of a Tetun edition of The Big Picture Story Bible by David Helm.