Open my eyes
Posted on
November 21, 2017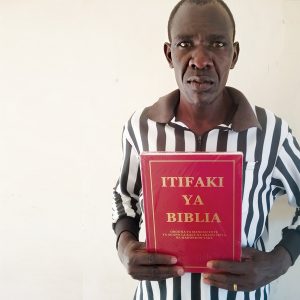 You can help prepare pastors like Javan Asuza Benard to teach and apply the word of God with confidence.
When I was a young boy I went to Kenya to find my fortune. This is where I saw a young evangelist known as Sister Mary. I heard her speak and the word of God entered into my heart. As I listened carefully I received the Lord Jesus Christ as my Saviour.
When I completed my schooling I returned home to Tanzania. In 1997 I was baptised and four years later I was confirmed. In 2003 the parish council chose me to be an evangelist and sent me to study at Kowak Christian Training Centre.
Open my mind
My name is Javan Asuza Benard. I am 43 years old and married to Jane. God has blessed us with four children.
In 2012 I commenced certificate level studies at the Bunda Bible College. This year I will graduate with a diploma. At college I read many books. I have discovered how books can open my mind and help me understand and apply Scripture. Despite suffering, Job did not curse God. I learned that God is with us in good times and bad times. We should preach with an understanding of the whole Bible as well as what a particular passage is saying.
Open our hearts
In our parish we have three new churches. These congregations are small and weak and need good teaching. I want to see them grow and develop as they learn more about God.
Please pray that I will let the Holy Spirit lead me and show me how to teach the people so they will understand well. Pray that God will open the minds of our people so they may know God as their hope and refuge.
May God bless you so much.
Your loved brother, Javan Asuza Benard.
This year Javan Asuza Benard will graduate with a diploma from Bunda Bible College in Tanzania.
$45 will provide a pastor or theological student with a copy of the Africa Bible Commentary.