David Painter joins the SparkLit Council
Posted on
December 21, 2017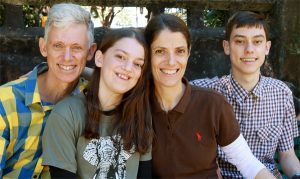 While on study leave in Australia, David Painter will serve on the SparkLit Council. In 2019 he will resume his pioneering work in Christian publishing and theological education in Cambodia.
David and Leoni together with their two children, Joshua and Grace, have served with the Church Missionary Society in Cambodia since 2001. David has taught at the Phnom Penh Bible School and worked with local Christian publisher Fount of Wisdom.
"Books are essential for communicating and consolidating the gospel in Cambodia. The Buddhist mind naturally interprets the Bible as a works-based philosophy: 'Do good and receive good, do evil and receive evil.' To correctly understand and interpret Scripture, Cambodian teachers, preachers, church elders, Bible study leaders and thoughtful Christians need all the assistance they can get. They do not enjoy the resources we take for granted in the English-speaking world."
In Khmer culture, books, reading and writing are revered. However, the devastation wrought by the Khmer Rouge in three and a half years will take generations to reverse. Among other tasks, Christian publishers are helping to recreate a national literature.
Publishing Christian books is especially challenging in a culture in which many fundamental Christian theological principles find no natural equivalents. This became apparent when David began to translate the IVP New Bible Dictionary and Moore College Preliminary Theological Certificate curriculum into Khmer. With the help of a group of young Church leaders and a linguist, David compiled a Khmer glossary of more than 6000 biblical words and theological terms. This glossary has been published by Fount of Wisdom, and is used by other publishers and translators. The glossary reflects current usage in the Khmer Scriptures and local churches. It streamlines translation and aids original writing, making it easier for Cambodian Christians to read Christian books from different sources.
Systematically articulating Christian theological ideas in the Khmer language is a gift to the Cambodian Church of enduring and far-reaching significance.
David plans to return to Cambodia equipped for a new season of service. "In an attempt to answer some very Asian questions, I have commenced a masters degree researching the relationship between the living and the dead."
Please pray for the SparkLit president, Bishop John Harrower, and the members of the National Council as they guide the work of SparkLit and support our national director. Pray that we will develop and guard an ethos that kindles local initiative, reinforces achievement and empowers our partners.