The Lord kept me standing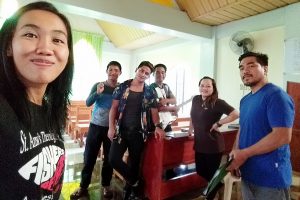 Thanks to your support, graduates leave St Andrew's Theological Seminary in the Philippines with a Bible dictionary and commentary.
Because their resources are meagre, these gifts become indispensable tools. One graduate, Jenelyn Marino, tells how God sustained her as she studied.
"My mother called me while I was working far away from home. 'Your father has had another stroke. We need you at home. Oh, and you have been offered a place at the seminary.'"
"I had to choose between my family and my vocation."
He called me
Jenelyn was born in Nueva Vizcaya, a mountainous province of the Philippines. "My father worked hard to feed and educate his family. He supported me through a bachelor degree in information technology."
The priest of Jenelyn's home parish encouraged her to train for ordination at St Andrew's Theological Seminary. She made a special journey to a neighbouring diocese to take the admission exam.
"I was waiting for my results when my father suffered his first stroke. Even though I wanted to be with my family I kept working in Sagada to pay for his medical bills. Our relief when my father was discharged was short-lived. He had another stroke and was rushed back to the hospital."
An invitation from the seminary was the confirmation Jenelyn had been waiting for. "I resigned from my job and set off for home. How would I tell my family that I wanted to study theology? I got off the bus and ran to our house. My father tried to speak to me but, as a result of the stroke, the words he uttered were unclear. I wept as I played my guitar and sang to him."
He sustained me
"I sought my father's blessing on my decision but he said: 'I cannot work anymore. I thought you would find a job and support your younger sister in her studies.'"
Jenelyn accepted the offer from the seminary but not without much doubt and hesitation. "During my four years at St Andrew's I was hounded by guilt. How can I expect to serve other people when I do not help my own family? I also doubted whether I had the skills and confidence to fulfil my calling."
"I now see that I persevered with God's help. He provided financial support. He blessed me with a community. Every time I felt like giving up he sent friends to comfort me. Most of all, he gave me the chance to make up with my father. To God be the glory!"
"Please pray that with the help of your gifts I will share the gospel with confidence."
Jenelyn Marino graduated from St Andrew's Theological Seminary with a bachelor degree in theology.
$70 will provide a theology graduate in Manila with a Bible dictionary and commentary.