Nothing will stand in God's way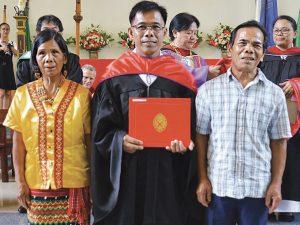 Thanks to your support, graduates leave St Andrew's Seminary in Manila with a Bible dictionary and commentary. To Victor Bongngat Mangngao, these gifts are indispensable tools.
"My six siblings and I were born into a remote Ingorot tribe in Kalinga Province. As a child I cultivated white beans, coffee and tiger grass. However I dreamed of becoming a priest. I was inspired by the commitment of the priests who travelled by foot to far-flung areas in my province to celebrate the Eucharist and minister to the people."
Suffering produces perseverance
"Poverty and the remoteness of our village made life difficult. The year 1984 was a sad year. My eight-year-old brother died of pneumonia and my two-year-old brother died with measle-like symptoms. Neither received medical attention."
Victor managed to complete elementary school. He then travelled long distances to attend high school and university. "I graduated from Kalinga-Apayo State College and sat the St Andrew's Theological Seminary entrance exam. Unfortunately, I could not afford to pursue theological studies. But I was determined to find a way."
Perseverance produces character
"My height disqualified me from enlisting in the police and armed forces, and I failed the civil service exam several times. I ended up working as a construction worker. My frustration caused me to join a revolutionary movement. With this underground movement, I saw the value of comradeship, developed self-discipline and learned to live with danger."
When his father got sick, Victor was forced to choose between the movement and his family. "I felt bad because I was not able to take care of my father. I was also worried about being killed. I took advantage of a government amnesty and left the revolutionary group."
Character produces hope
"My father died in 2010. In my grief I was reminded of my vocation. Almost 20 years after my first attempt, I finally enrolled at St Andrew's Theological Seminary. This time my training was sponsored by friends."
"My struggles have not been in vain. I can see that God has been preparing me to serve his church."
"Pray that I will devote myself to our Lord Jesus Christ. Please pray that if it is the will of God, I will become a priest and serve him and the people he entrusts to my care."
Victor Bongngat Mangngao graduated with a bachelor degree from St Andrew's Theological Seminary.
$70 will provide an IVP New Bible Dictionary and a New Bible Commentary to a theological graduate in Manila.