Make disciples of all ages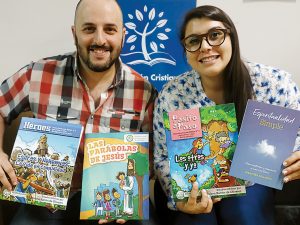 Pablo Vernola tells us what led him to start producing home-grown Christian education resources in Argentina.
"When I was a child my family lived through very difficult times. Economic and marital problems were tearing my parents apart until an uncle invited them to a weekly Bible study and prayer meeting. Little by little I saw God transform their relationship. I could not deny that a miracle was occurring in my family. We all surrendered to the Lord Jesus and began to attend a church near our home."
"Since childhood I have loved to study the Bible. After secondary school I enrolled at the Baptist Seminary and God confirmed my calling to serve him in ministry. Over 11 years I pastored a congregation while studying theology and education. Then in 2017 I was asked to assume responsibility for the National Bible Teachers' Network."
Teach them to obey all I have commanded you
"In diverse congregations throughout Argentina we have seen a desire to learn and teach the Bible in greater depth. This awakening has renewed our calling and strengthened our commitment to this beautiful ministry. It is God who goes forward, opening doors, directing our vision and providing the necessary resources. He is faithful!"
Thanks to your support we have published a Christian education curriculum for children, youth and adults. All three series (Step by Step, Heroes and New Bible Training) now have four manuals. We are currently adding a fifth manual to each series.
The opportunities and challenges are many
"We are also preparing guides for discipling new Christians. Instead of systematically presenting Christian doctrines, this new series will encourage the new believer to know and follow Jesus by studying a gospel. Whatever their context or needs, this approach will enable new disciples to be transformed by the word of God so that they might conform to the will of our heavenly Father and the image of his Son."
"We are planning another series to help people study Scripture in small groups. These inductive Bible studies will explore not only the text but also practical applications that help believers grow more committed to God and neighbour."
"Thank you for your support. You are part of God's response to our cry."
"We count on your prayers. Please pray for the recruitment of new writers to our editorial team. Pray that the Lord will give us the wisdom and creativity necessary to produce material that is relevant and useful for the church."
Pablo Vernola directs the National Bible Teachers' Network and teaches at the Baptist Seminary in Buenos Aires.
$27,000 over three years has enabled the publication of Christian education curriculums for all ages in Argentina.