Thank you, Len Woodley
Posted on
December 11, 2020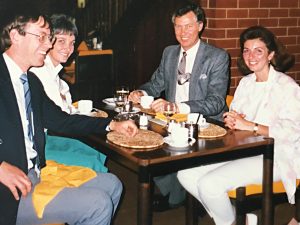 Argentine publisher and bookseller Beatriz Buono honours retired Sparklit General Secretary Len Woodley.
Certeza Argentina has been called to communicate the lordship of Jesus Christ by publishing biblical and contextual books by Latin American men and women. My best tribute to Len and his work with us is to say that, against all odds, thanks to God and also in great measure to the contribution of SparkLit, we continue to pursue our vision.
A friend in disguise 
I first met Len when he began courting my friend Lesley McGrath in 1987. My roots are more Italian than Argentine, so I needed to overcome my natural prejudice to discover behind that dignified gentlemanly demeanour a sensitive and joyful man with a passion to advance God's kingdom through the ministry of Christian literature.
It was a wise and brave man who told me over breakfast during his first visit to Argentina that, to avoid collapse, Certeza needed to close all its branches and spare only the central Buenos Aires bookstore.
A friend in adversity 
It is not easy to run a business in Argentina. As well as competing with large foreign publishers and global online retailers, Certeza has to deal with sudden recessions and devaluations.
Len's sober and timely counsel has helped us weather one storm after another. He didn't always apply the same formula or remedy. Sometimes he advised us to close down and scale back. At other times he encouraged us to grow and expand. His business sense rarely failed him. 
A friend 
However, if there is one thing an Argentine values more than wisdom, it is companionship. Len is a dear friend who, together with his wife Lesley, has had such a positive influence on me and the ministry of Certeza.
Len, thank you for respecting me and affirming my leadership. Thank you for challenging me to grow by recommending pertinent reading and training opportunities. Thank you for treating me as an equal; colleague to colleague.
I pray that God will strengthen you and surprise you with new paths in which you may continue to serve him. 
Beatriz Buono is the director of Christian publisher Certeza Argentina.
SparkLit nurtures Christian literature ministries in difficult places.