Len Woodley retires from the SparkLit Council
Posted on
December 15, 2020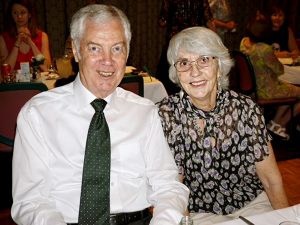 This year Len Woodley concludes 28 years with SparkLit. Twelve years on the Council followed 16 as General Secretary. He reminisces with Council member Elspeth Kernebone.
In 1992, Len's wife Lesley noticed that the Society for Promoting Christian Knowledge Australia (SparkLit) was advertising for a General Secretary. Len had sold his Adelaide bookshop to Dymocks. After running it for 25 years, he was working for Dymocks to turn his store into one of its branches.
The SPCKA role seemed a good vessel for his experience.
The right time
The book trade was undergoing its biggest transition in 500 years. Not since the introduction of the printing press had the entire publishing industry—and even the concept of the book—seen such astonishing changes. 
Len found this exhilarating. His hero William Tyndale had harnessed the transformative power of printing to advance the gospel. With the digital revolution Len saw the need to be equally innovative, especially in tough situations overseas. 
The right experience
Len remembers sitting on the plane to Buenos Aires wondering, "What have I got to offer these people?" 
It turned out that his experience coordinating a network of branches with Dymocks was exactly what Certeza Argentina needed.  "I was amazed to see how God used my experience. It just coalesced to fit their needs at that time."
The right heart
In Argentina, Egypt, India, Peru and the Philippines, Len helped improve procedures, introduce technology, train staff and even root out corruption. 
"It was an eye-opener for me to see how people depend on God when many of the things we take for granted just aren't there. This developed my empathy, broadened my understanding and deepened my passion." 
"God does wonderful things when we put our knowledge and funds in his hands. Each time I came away feeling what an extraordinary privilege it is to make Christian books accessible, affordable and available to those who need them most."
Pray that the Holy Spirit will enable the SparkLit Council to build on Len's legacy of dedication and generosity.
Elspeth Kernebone is a journalist for the Bendigo Advertiser and a SparkLit Council member.
SparkLit nurtures Christian literature ministries in difficult places.