I didn't want to study the Bible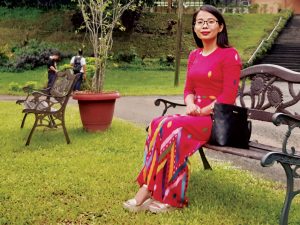 Esther was reluctant to recognise her gifts and calling to ministry in the church.
My name is Esther. I am from Kachin State, Myanmar. I have a brother and four sisters.
My grandfather was an Anglican priest. He was a good and faithful leader of the church and our community. A loyal husband and wise father, he supported and guided my parents as they raised their own children.
Compelled by family
I admired my grandfather, but as a teenager I resented his strict discipline. I wanted to go out with my friends on Saturday afternoons but he made me stay and clean the church.
Because I am the firstborn, my parents set me apart for church ministry as an offering of thanksgiving to God. But I insisted that I was not interested because I knew there were few ministry opportunities for women in Myanmar. My mother kept reminding me to count God's blessings in my life rather than focus on what I could not do.
I was allowed to go to college. But to satisfy my family, after graduating I went to Holy Cross Theological Seminary in Yangon.
Called by God
It was not until my third year of study that I realised I was chosen for ministry—not by my family, but by God. The Holy Spirit inspired me. He showed me who I am and where I belong. I promised God that I would serve him wherever he sent me.
After I completed my Bachelor of Theology in 2013 I was sent to teach in a mission school located in a remote and under-developed area of my state. After three years I became the coordinator of the Christian Education Department for the Diocese of Myitkyina.
Eager to learn more
I encountered many challenges and realised my knowledge was not sufficient to fulfil my responsibilities. I prayed fervently that God would enable me to study again and elevate my capacity. I wanted to serve faithfully and to the best of my ability, just like my grandfather. I remembered the words he used to encourage me: "No turning back!"
In 2017 God gave me an opportunity to go to the Philippines and study at St Andrew's Theological Seminary. Thanks to SparkLit, I now have my own Bible commentary and dictionary. Wherever I am, with these books I can continue to improve my theological knowledge. God is good all the time!
Please pray that I will persevere in what I have learned and be thoroughly equipped for every good work as a servant of God, using the Scriptures to teach and train in all righteousness.
Esther graduated from St Andrew's Theological Seminary in 2020 with a master's degree in divinity and has returned to serve with the Anglican Church in Myanmar.
$70 will provide a Bible dictionary and commentary to a graduate from St Andrew's Seminary in Manila.