Young church leaders are counting on us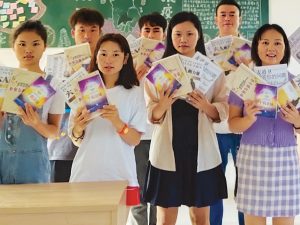 Sheung Un recounts the difficulties of delivering theological books to Chinese seminary graduates in 2020.
On Friday afternoon in June 2020, a seminary vice-principal rang to tell me that a graduation ceremony planned for August had to take place within two days or not at all. To comply with the latest infection control measures the students had to be off the campus by midday Sunday. Once the graduates had left the college it would be impossible to distribute our book packages.
Now or never!
I reallocated book packages and contacted the logistics company. Soon a vehicle departed for the seminary with the impossible task of arriving in less than 46 hours. The trip normally takes three days. Poor weather, accidents on the highway or waiting at checkpoints can easily prolong the journey. I could do nothing but pray and keep praying.
Why did I insist on attempting this delivery at such late notice? These students had to rush to graduate like refugees on the run. Yet, amid the chaos, the seminary staff made contacting me a priority. They rang because books matter to them. Graduates finishing their training and returning to their distant hometowns were counting on us.
An enduring challenge
Last year, the pandemic and serious flooding interrupted book distribution. Most seminaries were forced to defer or cancel their graduation ceremonies. Nevertheless we felt a strong urge to deliver books to seminary graduates. With what felt like only five loaves of bread and no fish, we were thankful for opportunities to resume deliveries.
These books are a sign of God's provision and a gift of love from brothers and sisters in different parts of the world. Whatever else happens, this gift will accompany the graduates as they venture into ministry.
These packages will be especially valuable to those who are assigned to teach and preach in poor and remote areas where they will rely on these books and what they have learned at seminary. Your gift of pastoral resources will invigorate and encourage them throughout their ministries.
An all-powerful God
At 11 am on Sunday morning, the books arrived at the seminary. Just in time! How abundantly the Lord's unseen hands guided and protected us! Looking at photos of the graduation ceremony, how could we not be deeply moved by the Lord's gracious providence?
I thank God for reminding me that everything is accomplished by the work of the Holy Spirit.
Please pray that the Lord will strengthen us in our ministry of encouragement so that the church in China will grow.
Sheung Un and his colleagues provide theological and pastoral resources to students graduating from seminaries and training centres across China.
$30,000 will make possible the provision of book packages to graduates from seminaries and training centres across China in 2021.