Agents of change
Posted on
October 26, 2021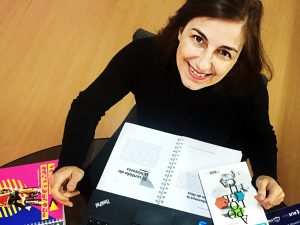 You can help Daniela Ortiz take the gospel to every profession in Argentina.
My name is Daniela Ortiz. I am 43 years old and I live in the city of Buenos Aires. I discovered my passion for communicating the lordship of Jesus Christ through books while I was a teenager. For more than 20 years I have seen how books take stories and ideas to places and moments where the authors cannot go. Books touch the heart, mind and soul. Just like our Saviour, literature crosses frontiers to reach lonely hearts in surprising and diverse ways. 
I have witnessed how God uses books to expand his kingdom. The Holy Spirit uses books to exhort, guide, motivate and enrich us. Books can challenge our thinking, help us break bad habits and develop new patterns of behaviour. 
Christian authors from Europe and North America have made an incalculable contribution to the church in Latin America. But we must also raise up local authors who write from the perspective of our own customs, culture and context. This enables us to grow in faith and live out the gospel in our daily lives.
I work with the Evangelical University Network. We publish biblical, gospel-centred resources that equip university students and young professionals to become agents of change in their study, work and family. We want each student and professional to see the workplace as a mission field where they offer their God-given talents and passions so that our cities and people will be ­transformed. 
Looking back I can see how God has prepared me for this role. God has been weaving a colourful tapestry; intertwining people, knowledge and opportunities. My experience with a national ministry to adolescents, as well as local Christian bookshops and Christian publisher Certeza Argentina, has equipped me to publish books that are biblical, practical and relevant.
Please pray that our books will be a redemptive presence wherever and whenever they fall into someone's hands.
Daniela Ortiz manages content creation for the Evangelical University Network in Argentina.
$12,000 will enable the Evangelical University Network to publish four books and four training manuals.