John Harrower retires from the SparkLit Board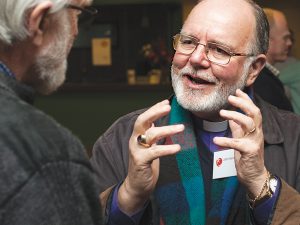 Last year John Harrower concluded 31 years service on the boards of the Australian Christian Literature Society and the Society for Promoting Christian Knowledge Australia; now known as SparkLit. He was president from 2005 to 2021.
John Harrower arrived in Argentina with his wife Gayelene, and two young boys in 1979 to work with university students. This was during the notorious Dirty War, in which the military junta "disappeared" thousands of people suspected of left-wing sympathies. While John was travelling, Gayelene often wondered whether she would ever see him again.
In 1981, the Argentine fellowship of evangelical students (ABUA) asked John to rescue Christian publisher Certeza, which had gone broke. John assembled a team of students and graduates and asked SparkLit for help. He saw firsthand the difference a little money, advice, training and encouragement can make to an indigenous Christian publisher.
"Under local leadership, Certeza thrived. They did things I could never have dreamed of doing. It warms my heart. It's so exciting to see other people fly higher than I could ever fly."
Returning to Australia in 1988, John became the vicar of St Paul's Anglican Church Glen Waverley, where he worked to combine three parishes into one, now GWAC. In 2000 he was appointed Bishop of Tasmania, a role he held until 2015. He then worked as bishop assisting the Primate, Archbishop of Melbourne Philip Freier.
"When I was asked to join the SparkLit board, I said, 'Of course!' I was grateful for the support I had received in Latin America and I knew how valuable the work of SparkLit is for grassroots publishers. SparkLit makes a significant contribution to God's work in the world. I wanted to be part of it."
Elspeth Kernebone is editor of The Melbourne Anglican and a SparkLit Board member.
SparkLit nurtures Christian literature ministries in difficult places.